Clear Channel Outdoor now offers Six Full Motion Digital Displays reaching the heart of downtown Minneapolis! These 6 units, used together, creates an effective domination campaign that targets nightlife, business decision makers, shoppers, theater patrons, and sports fans.
Get continuous exclusive exposure with full motion digital or static displays.
Mayo Clinic Square is the most exciting mixed use development to hit Downtown Minneapolis in over a decade! Located in the heart of the entertainment district, the Square touches the immediate vicinity of two professional sports stadiums, four live theaters, two shopping centers, five Fortune 500 companies, and a major sports medicine clinic. Captivate these consumers with our exclusive digital displays.
#092010
Hennepin Ave & 7th St South
Facing SouthSee Map
#092011
7th St South & Hennepin Ave
Facing East
See Map
#092012
7th St South & Hennepin Ave
Facing South East
See Map
#091910
Hennepin Ave & 7th St South
Facing South
See Map
#091915
Hennepin Ave & 6th St
Facing East
See Map
#091906
6th Street & 1st Ave North
Facing North
See Map
Nearest Attractions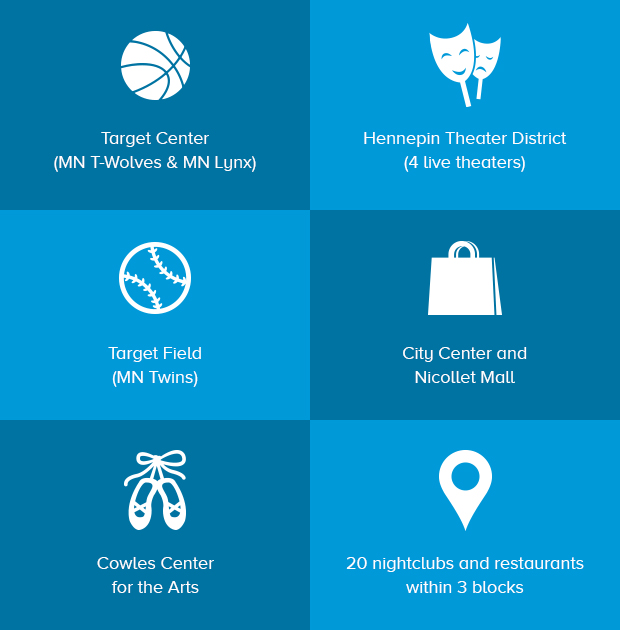 Features & Capabilities
Large display faces visible from multiple viewpoints with advanced digital LED features
Individual ads can be linked together for brand domination and storytelling opportunities
Full motion video or static imagery
Dynamic feeds may display live video, current events, headlines, market conditions, daypart messaging and more
Connect social media and mobile advertising campaigns
Download the MC Square Media Kit