Impact Desirable Retail Audiences
Optimize your campaign and drive consumer action with relevant and timely messaging near retail, restaurants and other venues.
Outdoor advertising is the original – and still one of the most powerful mediums – to engage consumers on the move. Dynamic digital capabilities and enhanced traffic data and mapping have only enhanced its power and relevance.
Why include outdoor ads in your campaign?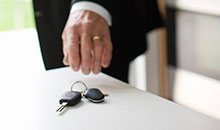 People are spending more time away from home.*
Commuters spend 20 hours and 16 minutes per week driving or riding in any vehicle, and Americans are spending 33% more time in cars than 10 years ago.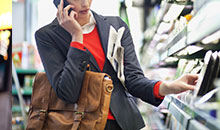 Many purchase decisions are made on impulse. **
More than 30% of mass merchant customers have no shopping list (mental, written or digital) to guide their purchases, and 82% of their shopping decisions are made-in store. For grocery shopping, 76% of decisions happen in-store.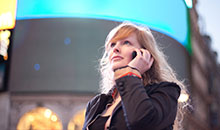 Outdoor advertising has high recall.***
51% of consumers agree they're more likely to pay attention to outdoor advertising than any other medium.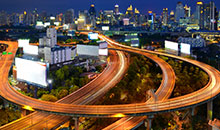 Ads can be positioned near point of purchase.****
40% of shoppers recall noticing outdoor ads in the 30 minutes preceding shopping – this is higher than any other media.
Sources: * 2013 & Arbitron "In-Car Study", 2003; ** POPAI, " Mass Merchant Shopper Engagement Study", 2014; *** Exterion Media "Interactive Europe", 2012; **** The Outdoor Media Centre, "The Last Window of Influence", 2011
Win at retail with proximity targeting solutions.
Clear Channel Outdoor has over 500,000 demographically relevant locations mapped against our billboard and display locations, including:
National and regional retailers
Sports stadiums and arenas
Airports and transit hubs
Banks & Financial Institutions
Corporate Headquarters
We'll build a custom proximity targeting program based on your specific needs, whether targeted to stores, schools, churches or voting precincts. Any destination with a physical address can be mapped to our inventory and traffic routes to ensure your messages are delivered when it matters most.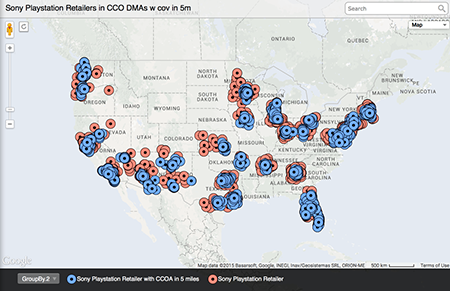 A sample map of locations in close proximity to Sony Playstation retailers
Our sales team will help you strategize your media plan effectively.